Author
Sohrab Salimi
---
The Las Vegas Rule is used in Scrum for constructive exchange within a group. With the help of this rule, a culture of trust is created that offers all participants room to develop.
Easy to understand rule: "What is said stays here".
Protected space for discussion and feedback
Mistakes and omissions can be addressed openly
Definition Las Vegas Rule
The Vegas or Las Vegas rule is used in agile teams in the context of the Scrum Retrospective, among other things. The definition itself in common wording says: "What happens in Las Vegas, stays in Vegas."
In relation to agile meetings and especially retrospectives, this phrase primarily refers to the secrecy of the participants and the confidentiality of the discussion. If someone explicitly makes use of this statement, it means that a protected space is offered or demanded and everything that is discussed will not leave the room.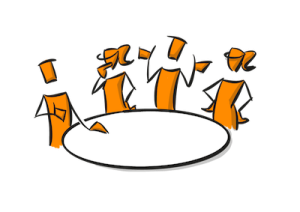 Synonyms
Vegas Rule, Bro Code, Gentlemen's agreement, "What happens..."
How to apply the Las Vegas Rule
In addition to bachelor parties, vacationers, and sports teams, the Las Vegas Rule is becoming increasingly popular, especially in agile teams.
Here, the main point is that the team should open up in meetings and not keep secrets from each other. After all, an agile mindset means learning from mistakes and living an error culture that helps to grow.
Especially within retrospectives, it is important that Scrum team members open up and tell the truth without the fear of anything leaking out. This security creates an open culture and contributes to the fact that all team members dare to express their opinion.
The Vegas Rule is also applied in our trainings. Here, the main focus is on the confidentiality of the participants among themselves. In this way, all training participants can share their practical experience without fear of evaluation of their work or decisions.
To what extent the findings of the meetings (especially the retrospectives) are used afterwards, however, is also up to the team and especially the Scrum Master.
It is not always advisable to leave the results of an open and honest retrospective within the team. - For example, addressed impediments can be jointly removed from the way or knowledge gained can be used to improve the situation. It is therefore advisable to have a common understanding of where Las Vegas begins and where it "ends" or to what extent findings from the retrospective can also be brought to the outside.
Origin / Fun Fact of the Las Vegas Rule
The origin of this informal statement or rule is quite controversial.
Great appeal is the sentence or rule especially in all-male groups, if it was related to a closed group at a certain time or trip. In Europe, the rule became known mainly through TV and cinema productions such as CSI, Hangover and Two and a half men.
However, whether the origin goes back to the city of Las Vegas or touring musicians remains controversial.
The phrase "What happens on tour, stays on tour" is the actual origin of the phrase, at least according to musician Tommy Lee of Mötley Crüe in his biography Tommyland (p. 103). If it was also gladly applied in Las Vegas by the same. ;-)